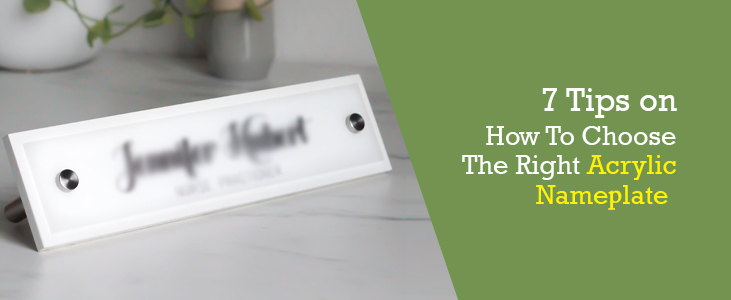 The first thing people notice while visiting your home or office is your nameplate. A nameplate is not just a display of the name of your residence or office, but an exhibit of your identity and personality. And hence, it should showcase the character of your company as well as your inner self and designation perfectly. Although, there is a multitude of nameplate designs available in the market, finding the best that suits your company profile is challenging. This guide from the top Acrylic Company in Dubai breaks the ice and makes it an effortless task.
From conventional nameplates to executive table wedges, identifying the perfect solution for your branding needs might be challenging. So, here's a quick tutorial from Acrylic Fabricators in Dubai that can help you decide which nameplate is right for you.
Each of these aspects should be addressed when designing a name board that looks amazing in any setting. In your corporate or retail establishment, use official name boards for names, titles, and even instructions. Acrylic nameplates are ideal for usage in restaurants, hotels, and other hospitality establishments.
1. First Impression with Typeface
We mean the font when we say typeface. A font is a distinct style that describes how characters appear. Serif typefaces including Georgia, Garamond, Futura, Helvetica and Times New Roman look symmetrical and subtle.
The primary purpose of acrylic nameplates for home name boards is to clarify who the occupants are and the residential address. Office name boards are to evoke customer attention. When developing the acrylic nameplate, take special care to ensure that the text is visible. The goal is to keep things simple and allow the typography and house number to stand out prominently.
The typeface you choose influences first impressions. When your font is excessively flamboyant or unoriginal, though, they will notice.
Classic serif typefaces on office nameplates can look traditional, respectable, or expensive. San serif typefaces have a contemporary, sleek, and neutral appearance. Despite their rarity, script typefaces exude elegance, femininity, and originality. When choosing a typeface, avoid anything overly intricate. You want a font that people will respect. 
Your choice of fonts is just as crucial as other appealing design elements. You must choose a font that complements the design and fits comfortably on the nameplate. Choose a font that is tightly aligned for lengthier names and vice versa.
As per standards, letters on a door nameplate ought to be 2.5inches to 3inches tall, and a gated property nameplate would look good if its characters are at least 5 inches tall.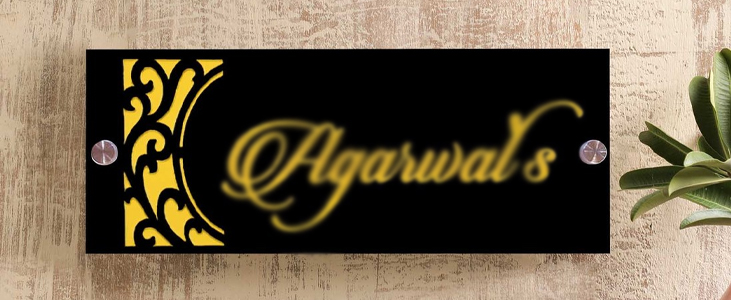 2. Color Adds Character
Color psychology showcases how color influences a person's emotions. Acrylic name boards are influenced by the subjective impact of the color spectrum. White or bright colors effortlessly convey openness, cleanliness, and youth. Elegance, authority, and refinement are associated with black and other dark colors. A neutral or light color, such as beige, grey, or brown, is a reasonable combination.
Consider the text color against the background before making a decision. Is it a dark background that you can't read from a great range? Are the text and backdrop color combinations too similar, causing the text to merge in?
When selecting a nameplate, consider the background tint on which it will be placed. It's recommended to aim for harmonic color schemes with contrasts because they make the nameplate highly noticeable and allow a clear and stylish display of names. Also, ensure the wording on see-through acrylic display stands or glass nameplates are apparent against the wall.
When combined with the proper texture, typeface, and color, your nameplate would become eye captivating. Definite colors can make it stand out and deftly acknowledged. Your acrylic name board color pick should offer a complementary color scheme with your office decor.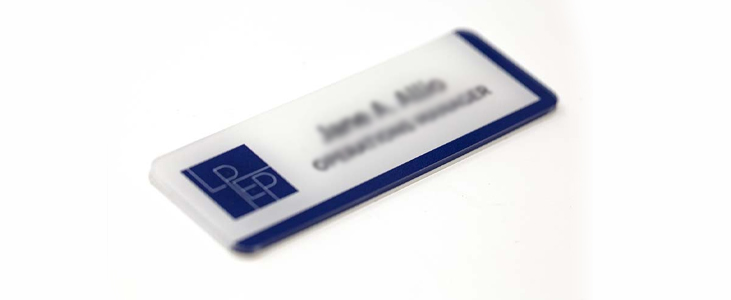 3. Desk Name Plates: Simple or Intricate?
There are numerous design options for your office nameplate. Consider the format of your office and your designation. With those factors in mind, find the ideal design for you.
The crucial consideration is to determine the suitable design for the job. The design options for the CEO name board are typically limited to a modest yet authoritarian styling, that evokes a feeling of how the company offers attention to customers. Simple is perfect: a straightforward design is an excellent option. The minimalist design is basic, balanced, and direct.
Have a job with a lot of unique oddities? Get yourself a unique desk nameplate! Elementary school teachers or ad creators can get away with vivid and vibrant designs that exhibit creativity. The custom nameplate of a kindergarten school teacher would be attractive if it is vibrant with the name written with acrylic paint, rather than choosing a monochromatic color scheme.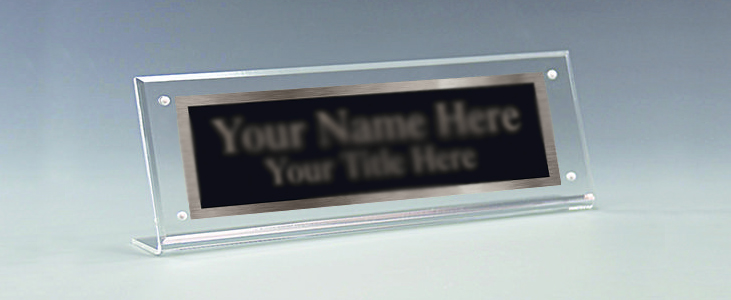 4. Material Considerations
The days of appreciating metallic and stainless steel nameplates are long gone. There are fascinatingly brilliant materials available currently! The best part is that you can choose the perfect model for your desk or office décor.
Desk nameplates come in a huge selection of weights and designs, depending on the material. A nameplate with a wood base and aluminum plate, or a cubical or pyramidal acrylic box, for example, ought to be heavy. Acrylic sheets, vinyl, aluminum, and glass are common materials for lightweight nameplates.
Your material choices can demonstrate your creativity and distinctiveness. Why not have a triangular acrylic name board mounted on a glass base made into a desk nameplate? You can also purchase a unique plate that exhibits your personality.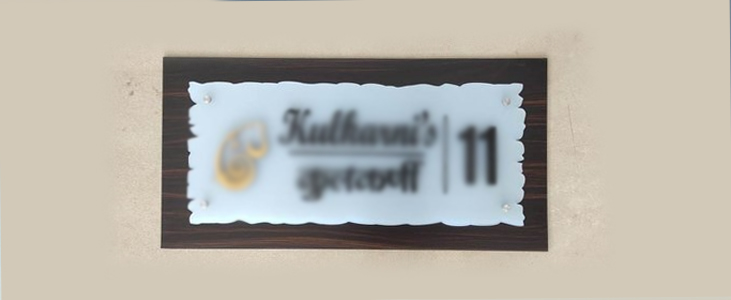 5. Size Matters
It is a common saying having a cluttered desk can help you be more productive. That doesn't imply your desk plate has to be included. Your nameplate should not be a source of clutter on your desk. A desk nameplate should be readable from anywhere in the hall. It should complement the size and height of your office desk. Oversized or long nameplates might be inconvenient. Meanwhile, too-small office nameplates may be difficult to read from across the office.
Names with a reasonable amount of letters fit easily on nameplates. So while giving your official name on the nameplate, make sure to choose a font and size so that the nameplate doesn't appear to be elongated. Spacing between the letters and names should also be considered.
On the other hand, while choosing the name board for houses, make sure that the font is visible even from a long distance and the nameplate is of perfect sizing on the wall.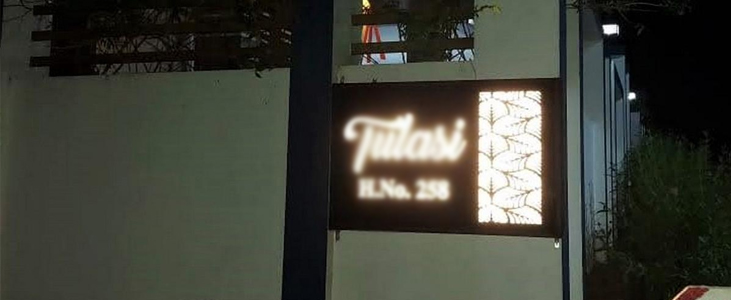 6. Visual Appeal
In the current era, rather than a typical text nameplate, an eye captivating design is more popular. Residents hire creative designers to design their residence nameplates that become memorable.
Fore office name boards, you can add the brand logo next to your name for a more formal impression. To make it more advanced, you can even add a QR code on your company logo name board, that directs to the company website or social media profile.
By visual appeal, we mean every factor that adds to the aesthetics. You can enhance the appeal by professing different shapes, styles, colors, and patterns on the name board.
7. Maximum Practical Utility
It is always advisable to add a personality to your name board by making maximum use of it rather than using it just as an identity exhibiter. Some nameplate designers include more features in their designs.
Your office acrylic nameplate can also serve as a paperweight, which is the most evident additional use. A pen or cardholder can be added to your nameplate. If you use a lot of pins and clips, you can incorporate a stationery compartment in your nameplate.
The residential nameplate can also incorporate a letterbox space or a key holder.
Wrapping Up
People can determine exactly what sort of person you are just by looking at your design choices without ever having a conversation with you. So always stand out in the crowd by being professional in displaying your identity.
It is also vital that you perfectly maintain your nameplate as it represents something you're passionate about. Acrylic nameplates are highly durable and easy to maintain compared to other materials; acrylic is weather and corrosion proof and hence can be displayed anywhere anytime irrespective of the character of your profession.
1. What are the different varieties of acrylic name boards available for workspace?
There are a plethora of options available in acrylic name boards for office use, namely;
Classic nameplate with logo
Reusable nameplate with paper slip provision
Contemporary nameplates
Acrylic desk blocks
Executive desk wedges
2. Are acrylic residential nameplates easy to install?
Yes, they are. Acrylic nameplates come up with a myriad of installation options ranging from hooks, screws, or even permanent glue options. We should choose the ones that are more convenient for us considering the weather, environmental temperature and the wall on which it will be installed.
3. Why is the acrylic nameplate on demand?
The high demand for the acrylic nameplate is due to its versatility in design and styling. It can be molded into any shape and design and can incorporate any color scheme as per the client's requirement. Moreover, they are highly durable and weather resistant, and hence, easy to maintain.