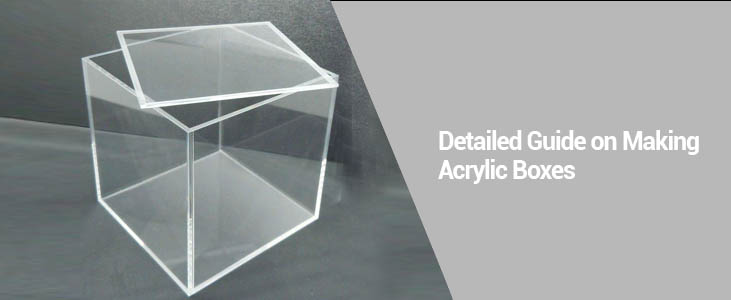 What is An Acrylic Box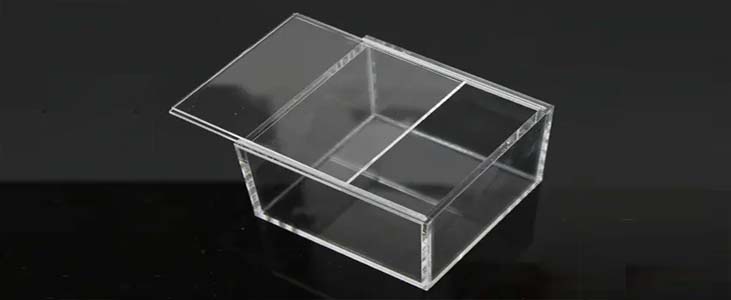 Acrylic boxes can be a fun and creative piece for your walls, tables, floors, ceilings, or shelves. These boxes look attractive and come in varying shapes and colors. You can choose the box that you like the most. They can either carry stuff or just be art pieces. Have you ever thought about building a spectacular DIY acrylic box by yourself? If yes look no further!
This post was written with you in mind to help you with how to make a display case with plexiglass. If you have an acrylic sheet you can make a box out of it. An acrylic box can be transparent or can come in any color that you like. In this post, we will learn how to create the acrylic box. Do check every detail that we have gathered in this post for you.
In this post, we will learn about how to make an acrylic box.
What are the Different Types of Acrylic Boxes
Before you learn about how to make an acrylic box, you must learn more about them. This helps you to find the box that you want to make. Different types of acrylic boxes come as the way they serve a purpose. The boxes can be transparent or colorful or multi-colored. Such boxes can either have thick sheets or moderately thick sheets. These boxes can be jewelry boxes, stationery boxes, food boxes, or make-up boxes. You can also make an acrylic flower box. And of course, they also make great display boxes. Display boxes display any food or product. They can also be game boxes, mystery boxes, or gift boxes. You can also read the advantages of acrylic plastics.
How to Make an Acrylic Box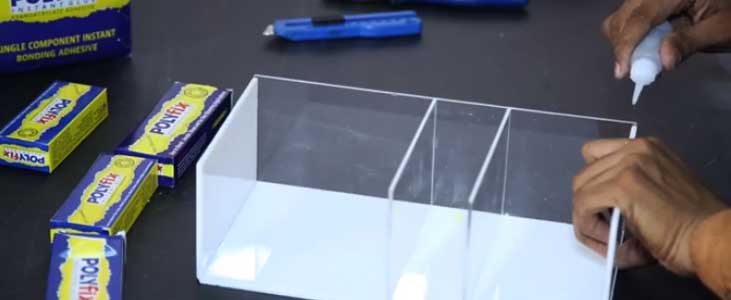 First Step 
Collect All Things That You Need. Collect the stuff you need in order to learn how to make an acrylic display box. These things are:
X-acto Knives
Stainless Steel Scale or Rulers
Super Glues
Mats for Making Cuts
Second Step
Here is the next step for a DIY acrylic display case-making process. Depending on the thickness of the sheet you have the job of cutting the sheet will be of varying exertions.
Put the sheet that you chose for the custom acrylic display case on any flattened area.
Firmly place the stainless steel scale on the sheet and start to press.
Pressing tightly begin to cut the sheet precisely.
First, create three or five cuts through the scale on the sheet.
Change the side of the sheet.
Now repeat the same cutting process using the stainless steel scale pressed tightly on the sheet.
Be careful here you need to watch the cuts properly and cut only on the cuts to get better results.
Create three or five cuts. These cuts must be placed deeply into the acrylic sheet. You can apply plenty of pressure on the scale to make professional cuts.
Next, you can see that as you apply more strength the sheet starts to break from the cuts that you made. Success!
Once you get those parts that you need for making acrylic boxes, you will see how great this cutting process is.
ALSO READ: HOW TO BEND ACRYLIC AND MAKE AMAZING SHAPES
Third Process
Before settling to try to learn how to build a plexiglass box, you must create an order. Here you must place all the pieces on the table. Check if you need to sand any parts if there are uneven edges or scratches on the sheet parts.
Organize the sheets first.
Scrutinize for defective areas.
Smoothen them with sanding processes.
Wash them properly or clean them properly with the right materials only.
Do not damage the quality of the pieces.
Now the pieces are ready to be used.
Fourth Process
Now here you need a good quality super glue to build a waterproof acrylic box. Place the bottom piece on the table. Now glue on one side of the bottom square piece. And start to place the second piece on that one side on the bottom piece that carries the glue. Check if the piece has enough glue. Place the piece firmly on the bottom piece till the piece stands by itself.
Once you find that the piece has stuck well. Go to fix the next piece. Add glue of the two sides of the second piece and fix one side on the bottom and the next side on one side of the second piece that we stuck earlier. In this way, you get a corner of the box. Use the same glueing instructions as in the first two pieces.
Place firmly until the pieces are stuck properly. Then, move to add the fourth piece to the box. Check if the glue is used properly. Firmly stick all the rest of the pieces until you get an uncovered box out of it. In total, you must have used five pieces to get an uncovered acrylic box.
If you want use the next sixth piece to cover the uncovered upper part of the box. Place glue on all edges of the part and seal the top of the box precisely. Apply only the right pressure. In this way, you will get a complete box to complete the guide about how to make acrylic box sets.
ALSO READ : HOW TO MAKE DIY ACRYLIC FRAME
Benefits of Acrylic Boxes
Acrylic boxes can serve good purposes. These can be as follows:
These boxes are light in weight
They are waterproof
You can move them wherever you like
The box cannot break easily since they are not glass
These boxes are strong and can hold properly in most weather
They are used as artworks for your homes or office spaces
They serve as carriers of stationery products like pens, scissors, glue, pencils, notes, and other stuff
These boxes can also be used as gifts
You can also use them to cover lights like a lampshade or acrylic lightbox
Sometimes these boxes are used as a place to store essential things
Some people use it as a makeup box
While others use it to store hobby items like buttons, suing needles, and craft stuff
The box can also be a good jewelry box
In short, you can use it for anything that a box can be used for.
Summary
In this post above we have mentioned one way of creating an acrylic box at your home or workplace. Kindly read the whole post properly to get better results. We have painstakingly collected valuable instructions about building an acrylic box. This is a Do It Yourself guide to making an acrylic box. Hoping you would use these tips correctly.
Pleasant Acrylic is an acrylic manufacturing company that provides acrylic service and fabrication in Dubai, United Arab Emirates, specializing in POP exhibits. The group is run by a leadership team with the aim of capturing the large acrylic market in the UAE through service excellence, service, good Acrylic Design UAE, and excellent satisfaction. Also read our blog post about acrylic furniture and its acceptance, for more details contact us today.
To know more acrylic crafting ideas refer our blog top 10 acrylic crafting ideas, you will get plenty of acrylic ideas.
also read our blog post:  7 Tips for Working With Acrylic, Acrylic Cutting & Engraving with a Laser Machine